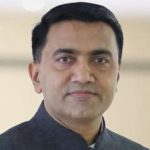 Dr. Pramod Sawant
Honourable Chief Minister of Goa
Department of Information and Publicity
The Department of Information & Publicity is the press and publicity wing of the Government of Goa and a nodal agency for dissemination of information through the print and electronic media, for effectively publicizing policies and programs of the government.
The Department also plays a pivotal role in the promotion of schemes and policies that lead to a greater and better understanding of governance, through the Right to Information Act etc. It also works as a communication medium between the government and the media.
The Department of Information and Publicity is headed by Director, who is Head of Department and assisted by Joint Director of Information & Publicity who is Head of Office. There are two Information Officers in the department looking after advertisements, films, field publicity etc. There is a sub office of the Department at Margao, catering to the publicity needs of the Government in South Goa District.