KISAN CREDIT CARD IS RIGHT OF THE FARMER: CM
November 21, 2023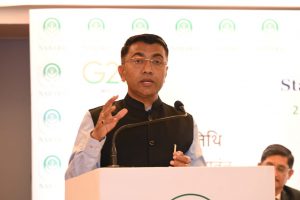 Underscoring the importance of ensuring that every farmer should avail Kisan Credit Card (KCC), Chief Minister Dr. Pramod Sawant asserted that the Kisan Credit Card is a legitimate right for farmers. He was speaking as the chief guest at the State Credit Seminar 2024-2025 organized by National Bank for Agriculture and Rural Development (NABARD) in the city today.
 Chief Minister unveiled State Focus Paper 2024-25 prepared by NABARD Goa Regional Office.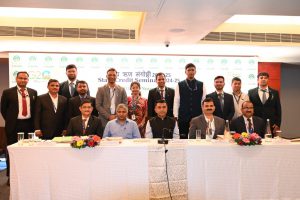 While acknowledging Goa's prosperity in paddy cultivation, Chief Minister raises the issue of exclusively cultivating and exporting raw paddy, with processing occurring in other states, Chief Minister advocates for a strategic aim to conduct paddy processing within the state.
Appreciating the work of NABARD Chief Minister, said NABARD has always been at the forefront in our quest for development, particularly in building rural infrastructure of the state. Various interventions supported by NABARD for skill development and livelihood generation in farm and non-farm activities are really commendable. NABARD has contributed towards development of agriculture sector not only in financial terms but also as a knowledge organization, CM added.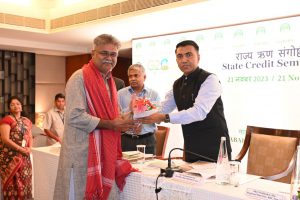 Chief Minister urged the banks and government departments to make the best use of suggestions given in the State Focus Paper to achieve the credit potential and strive for the overall growth of the State. Chief Minister also urged to utilize the platform provided by the State Credit Seminar to deliberate on policy initiatives in the areas of agriculture and rural development.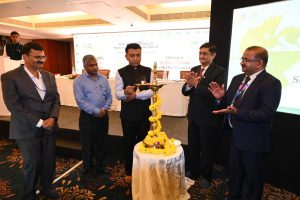 Dr. V Candavelou, IAS, Principal Secretary (Finance), commended NABARD for outlining a credit projection of Rs. 8995 crore for the Priority Sector in the State during the financial year 2024-25. This projection signifies a substantial growth of 26.69 percent from the preceding year he added.
Dr. V.Candavelou pointed out that 12 percent of Women Self Help Groups in the state are linked to institutional credit. Stressing the considerable opportunity for improvement, he advocated for linking all Self Help Groups to institutional finance.   Dr. Candavelou urged NABARD to amplify their initiatives, specifically requesting that every Self Help Group be connected to banks, ensuring a sufficient flow of credit to support their needs
Dr. Milind Bhirud, General Manager, NABARD, Goa Regional Office welcomed the gathering
Shri Prabhakar Jha, Regional Director, RBI, Panaji, and Shri Shriram Singh, General Manager & SLBC Convener also spoke on the occasion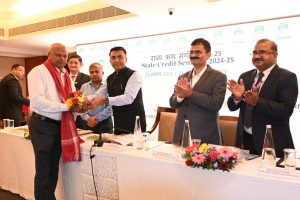 Chief Minister felicitated Shri. Vishwabhar Gawas Bicholim Progressive Farmer Producer Company Limited (FPCL), Shri. Uday Prabhudesai, Pedne Taluka FPCL, Shri. Sudesh Mayekar, Bardez Taluka  FPCL, Shri.Premanand Mhambare, Tiswadi Taluka, FPCL Shri.Atmaram Shetye, Sattari Taluka FPCL ,on the occasion.
DI/NB/SAG/AS/2023