CM INAUGURATES RENOVATED KALA ACADEMY COMPLEX
November 10, 2023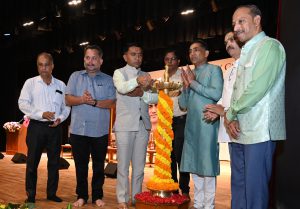 Chief Minister Dr Pramod Sawant today inaugurated the prestigious refurbished Kala Academy complex in the distinguished presence of the Minister for PWD Shri Nilesh Cabral and Minister for Art and Culture Shri Govind Gawade at a function organized by the Department of Art and Culture in the city.
Addressing the gathering, the Chief Minister mentioned that the reopening of the Kala Academy will bring cheers and happiness to artistes who recognize the importance of performing at this complex. Chief Minister expressed his satisfaction at the reopening of the Kala Academy complex, and said after a three-year gap, the Kala Academy complex will once again be vibrant as lot of artistes from Goa will be able to make utmost use of the complex in the area of art in the State.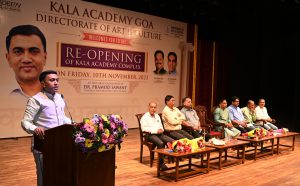 The Chief Minister emphasized the importance of refurbishing the 50-year-old Kala Academy structure, stating that the renovation was necessitated to ensure its stability for the next 50 years. The Chief Minister also informed that the Kala Academy will start accepting bookings for programmes at Dinanath Mangeshkar auditorium from December 2023.
Addressing the gathering Shri Nilesh cabral said that renovation of the complex will resolve the water logging problem that occurs during monsoon season at the Dinanath Mangeshkar Auditorium.Shri Cabral stated that the contractor, who executed the work of renovation of the complex, will carry out free maintenance work for a period of five years.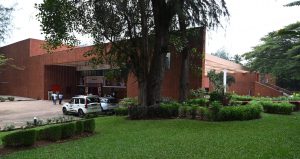 Speaking on the occasion, Shri Govind Gawade while expressing his views stated that apart from the renovation of the Dinanath Mangeshkar Auditorium, other structure such as Black Box, Art Gallery, and classrooms dedicated to Classical and Western Music have been accorded a new look. Kala Academy complex acts as a vibrant hub, providing energy and inspiration to artists, he added.
Shr. Aleixo Reginaldo Lourenco Curtorim MLA, Shri Menino D'Souza IAS, Secretary, Art and Culture, Shri Uttam Parsekar, Principal Chief Engineer were also present on the occasion
Shri. Sagun Velip. Director of Art and Culture welcomed the guests and Shri Vinesh Arlekar, Member Secretary; Kala Academy proposed the vote of thanks.
DI/NB/PN/AS/2023/1200