CM LAUNCHES VIDHYA SAMIKSHA KENDRA
October 19, 2023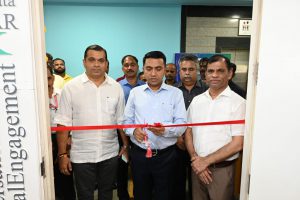 Chief Minister Dr Pramod Sawant, officially launched the Vidhya Samiksha Kendra (VSK) in the presence of Minister for IT, Electronics and Communication, Shri Rohan Khaunte, Dr. Chandrakant Shetye, Chairman of Info Tech Corporation of Goa, and Shri Prasad Lolayekar, IAS, Secretary (Education) organized by Vidhya Samiksha Kendra Goa , Goa Samagra Siksha, Info Tech Corporation of Goa Limited powered by SwiftChat, an AI platform developed by Conve Genius at the State Council of Educational Research and Training (SCERT) Porvorim today .
Speaking on the occasion, Chief Minister said with the launch of VSK, Goa has entered the phase of new revolution in education. It is the honorable Prime Minister's vision for an education revolution through technology and innovation.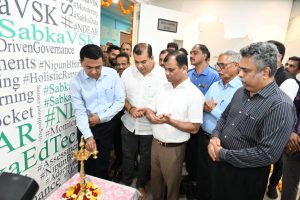 Chief Minister said VSK will present dashboards and reports for districts, blocks, and individual schools. This real-time data will offer invaluable insights into student progress, teacher training, and overall school performance.
He further stated that teaching is a continuous process that requires dedication to lifelong learning and improvement. This continuous process is essential to meet the evolving needs of students and to prepare them for the challenges and opportunities of the future.
Following Gujarat, Goa becomes the second State to inaugurate AI-powered Vidhya Samiksha Kendra, he informed. Directorate of Education is directed to take remedial classes for the students who are falling behind in their studies, he added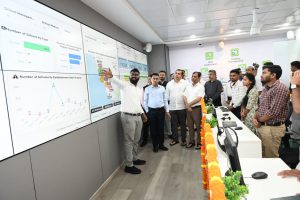 The introduction of Vidhya Samiksha Kendra is all about giving our students and educators the best tools for success," commented Dr Pramod Sawant. "It's the next big step in refining education in Goa using real-time data and feedback loops. The 6A framework of VSK including attendance, assessments, adaptive learning, administration, accreditation, and AI nudges will be setting new education benchmarks.
CM highlighted the need for students to be Sampoorn, teachers should be Samarth, and administrators should be Sashakt while moving forward .
Dr Sawant received an insider's look at the VSK facility, spotlighting its real-time monitoring, advanced data infrastructures, and interactive features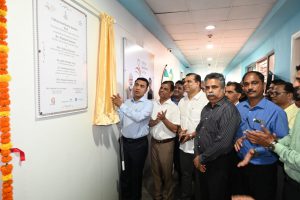 Shri Prasad Lolayekar, IAS, Secretary also spoke on the occasion informed that on ground level, from next month our team will visit every taluka and will monitor the training of the foundation level of NEP 2020 .He also informed that State Government has made compulsory registration for new and old pre primary school under Directorate of Education. Henceforth every school will be graded after monitoring and inspection.
Shri Sailesh Sinai Zingde Director of Education and Shri Shambu Ghadi,Director SCERT ,Shri Jairaj Bhattacharya Co-founder and CEO of Conve Genius was also present on the occasion
Shri John Silveira, State Coordinator, Goa Samagra Shiksha compered the function .
DI/INF/NB//AXP/AS/2023/1129