MOU SIGNED TO PROPEL CORPORATE SOCIAL RESPONSIBILITY INITIATIVES IN GOA
Panaji: October 18, 2023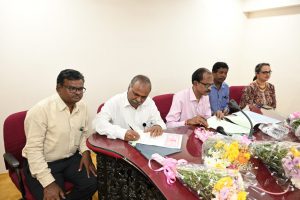 In a significant step towards strengthening corporate social responsibility (CSR) efforts in Goa, the Power Grid Corporation of India Ltd, the Directorate of Health Services, and the Goa Corporate Social Responsibility Authority came together today to formalize a Memorandum of Understanding (MOU). The MOU signing function took place at the Directorate of Health Services in Campal, Panaji.
The CSR Act mandates that corporations allocate 2% of their profits towards CSR initiatives. The Goa CSR Authority serve as the channel through which these funds will be channelised to execute projects across various government departments. Shri Vijay Saxena, CEO of Planning & Statistics and Jt. CEO of the CSR Authority in Goa, emphasized that these projects are designed to benefit the Goan community. One noteworthy contribution to the Goa CSR Authority came from Prasad Netralaya in Udupi, amounting to 1.16 crores, which is allocated for the "Vision for All" initiative. This initiative has already provided eye checkups to approximately 230,000 children, Shri Saxena added.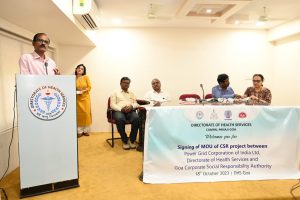 Power Grid Corporation of India Ltd, responsible for supplying 90% of the power to Goa from the Mopa substation, boasts an extensive network with 275 substations and over 175,000 kilometers of transmission lines across India. Shri Shankara B R Rao, Senior General Manager of Power Grid Corporation India Ltd, pledged full support for the Health Sector, focusing on cooperation in the coming two years.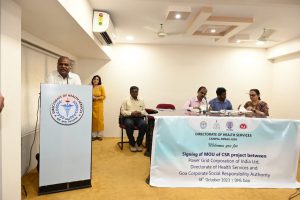 The signing function was attended by representatives, including Shri B L Kumre, Senior Deputy General Manager of PGCI, Shri Kisan Gaude, Joint Director of Accounts at DHS, and officials from the Directorate of Health Services.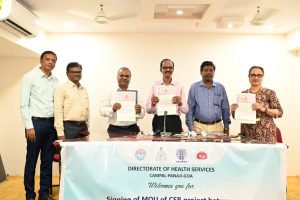 Dr. Rupa Naik, Deputy Director of Public Health at DHS, welcomed the attendees. Dr. Aditi Budkule presided over the event, serving as the host and extending a vote of thanks to all participants.
Under the project- supply of medical equipment, instrument in automation of the blood bank, the two Advanced Life Support (ALS) ambulances, six Basic Life Support (BLS) ambulances, and the procurement of Apheresis Equipment for the blood bank at the North Goa District Hospital will be facilitated.
DI/NB/AXP/UB/2023/1125