SHIRODKAR HEARS GRIEVANCES AT JANTA DARBAR
Panaji: September 04, 2023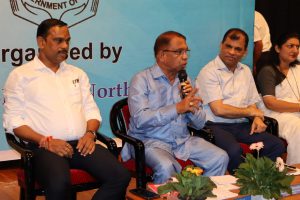 The Office of the Collector, North Goa, organized the third Janata Darbar for Bicholim taluka, a pioneering outreach program, at Ravindra Bhavan, Sanquelim, today, bringing governance to the doorstep of the people. The Minister for Water Resource Department, Shri Subhash Shirodkar, graced the occasion with his presence, offering a responsive ear to the grievances of the local people and finding resolution to their issues.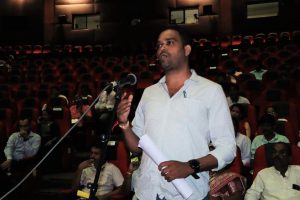 During his address, Shri Shirodkar emphasized the importance of transparency and accountability in governance. He suggested a monthly report card system, where all departments will provide updates on their work in progress and pending tasks which will foster greater efficiency and ensure that government officers work diligently for the welfare of citizens. Shri Shirodkar also informed that he will conduct special meeting in the coming months, focusing on Bicholim taluka, with a particular emphasis on the Water Resource Department and Cooperation department.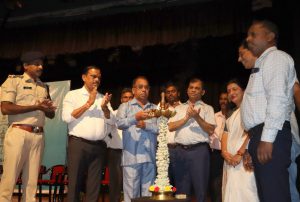 Shri Shirodkar further proposed that all Janata Darbar sessions commence with a report presented by the agriculture department, recognizing the pivotal role of agriculture in many talukas, including Bicholim.
Addressing the need for a good auditorium in Bicholim taluka, Dr.Chandrakant Shetye, MLA of Bicholim Constituency also urged department officials to be quick in their response after hearing grievances. He stressed the importance of citizen cooperation for the region's betterment.
Speaking about the significance of the Janata Darbar initiative, Shri Premendra Shet, MLA of Mayem Constituency, highlighted its role in identifying government shortcomings and providing a platform for swift grievance resolution.
The event was attended by Smt. Mamu Hage, IAS, North Goa Collector; Shri Nidhin Valsan, Superintendent of Police, North Goa, IPS; Smt. Rashmi Desai, Chairperson, Sanquelim Municipality; Shri Kundan Falari, Chairperson, Bicholim Municipality; Shri Gopal Surlikar,ZP; Shri Pradeep Revodkar, ZP; Shri Mahesh Sawant,ZP and various government officers from different departments.
Welcome address was delivered by Shri Rohan Kaskar, Deputy Collector of Bicholim, while Shri Dattprasad Jog was the program's compere. The vote of thanks was proposed by Shri Rajaram Parab, Mamlatdar of Bicholim.
DI/INF/NB/DB/AXP/UB/2023/971