100 PERCENT RENEWABLE BASED ELECTRICITY SUPPLY TO ALL SECTORS BY 2050: CM
28 July 2023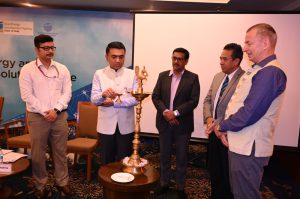 The State Government has decided to provide 100 percent Renewable based electricity supply to all demand sectors by 2050 said Chief Minister Dr Pramod Sawant .He was speaking after inaugurating two day workshop on Sustainable Energy and Environmental solution for the industries of Goa collaboratively organized by United Nations Industrial Development Organisation (UNIDO), Ministry of Micro, Small and Medium Enterprises (MSME),Goa State Pollution Control Board (GSPCB) ,Goa Energy Development Agency (GEDA) and Global Environmental Facility (GEF) today at Panjim.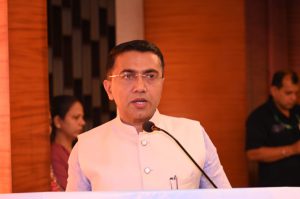 Chief Minister said that Renewable Energy and energy efficiency intervention will soon be introduced and implemented in sectors such as Tourism, Transport, Health, Industries, Agriculture and Food industries. Specific plans to green sectors such as Health and Tourism has already being initiated he added. We are also developing hydrogen policy and net zero emission policy for the industries which will soon be adopted. To achieve Net zero goals, State Government has also notified an open access policy to help industry to achieve Zero Goals, he added.
Chief Minister urged the industries to implement recommendation made by UNIDO during the workshop of energy efficiency technology and assures that Government will provide all necessary support as they strive to build green economy and that will endeavor as an example to our nation of what can be achieved when the government and industries work together to creatively for greater goals.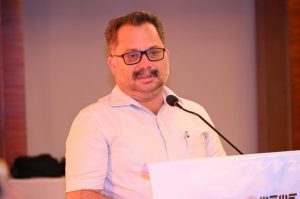 Minister for Environment and Climate Change Shri Nilesh Cabral said change in climate is affecting our State, country and the world. Goa witnessed delay in rain this year due to climatic change. Shri Cabral anticipated that Goa's target to achieve net zero emission will be achieved much before by 2050 with the requisite support from the industries .
Delivering key note address, Dr. Rene Van Berkel, Country Representative and Head, United Nations Industrial Development Organization said UNIDO is the specialized organization of the United Nations that supports its developing country member states in industrial development for poverty eradication, globalization of trade and environmental sustainability. Through policy dialogue, promotion of good practices, training and technical assistance, UNIDO aims to support growth, diversification and innovation in particular for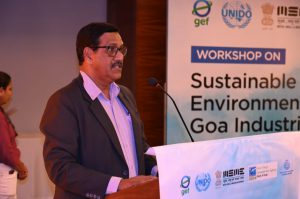 Micro, Small and Medium Enterprises in manufacturing and related sectors. UNIDO supports the implementation of the globally agreed, universally applicable, yet ambitious sustainable development goals that collectively constitute the 2030 Agenda for Sustainable Development he added. Manufacturing excellence and entrepreneurial competencies are critical success factors manufacturing MSMEs paving the way for both competitiveness and sustainability, followed by enabling institutions and supportive infrastructure. The challenge for growth and diversification of MSMEs is to create vibrant business and market ecosystem and for this our full attention is required to entrepreneurial competencies, manufacturing excellence and skills and market development he concluded.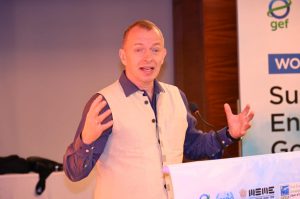 Director (GA&TP), Ministry of MSME, Shri. Vinamra Mishra, Chairman, GSPCB, Shri. Mahesh Patil also spoke on the occasion.
Dr Michelle Fernandes, Climate Cell, Goa Biodiversity Board welcomed the gathering and Ms Livia D'Silva, Scientist B, GSPCB proposed the vote of thanks .
DI/NB/DB/AXP/AS/2023/834