STEPS INITIATED FOR ALL ROUND DEVELOPMENT OF CUMBHARJUA – SHRI RAJESH FALDESSAI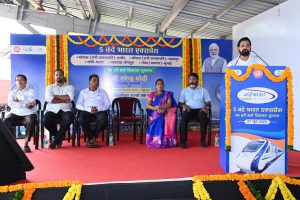 Prime Minister Shri Narendra Modi flagged off the Rani Kamalapati-Jabalpur Vande Bharat Express at a function held at Rani Kamalapati Railway Station in Bhopal. The Prime Minister also virtually flagged off the remaining four trains, namely the Khajuraho-Bhopal-Indore Vande Bharat Express, the Madgaon (Goa)-Mumbai Vande Bharat Express, the Dharwad-Bengaluru Vande Bharat Express, and the Hatia-Patna Vande Bharat Express.
Upon arrival of the Madgaon (Goa)-Mumbai Vande Bharat Express at Karmali Railway Station, Shri Rajesh Phaldesai, MLA flagged off the said train for its onward journey to Mumbai.
Speaking on the occasion Shri Faldessai, expressed his happiness and said he is fortunate to be part of this great event. Apart from being a tourist attraction, this train is a gift to Goans, allowing them to travel to Mumbai in 7 hours. He assured that within one to two months, Vande Bharat Express will have a halt at Karmali Railway Station, he added.
Shri Faldessai, said that under the Central Leadership of Prime Minister Shri Narendra Modi and State leadership of Dr. Pramod Sawant, the State Government has succeeded in achieving all-round development of Goa in various sectors in last 09 years. These includes new Airport, Atal Setu & Zuari bridge, Ayush Hospital, and now train service etc. Such endeavours coupled with progress and development will continue to make India more stronger. He urged the people to rally behind the present Government to full-fill their expectations and aspirations.
Speaking about the developments which are under-way in Cumbharjua Constituency, he said all-around development has been planned, which comprises the beautification of Carambolim Lake with various facilities, the construction of the Old Goa – Divar island bridge, a new police station, and a community centre for all types of programmes. This community hall will be constructed through MLA funds he said.
ZP Member Shri Sidhesh Naik and Shri Girish also spoke on the occasion.
V.P.Karmali Sarpanch Shri Kusta Salelkar, V.P. Corlim Sarpanch Baptis Pereira, V.P.St Estevam Smt. Sunita Sawant, Panch Members, Railway staff and other government officials were present.
DI/NB/AXP/GJG/ 751