LOK SABHA SPEAKER HANDS OVER KEYS OF HOUSES TO BENEFICIARIES OF SHRAM DHAM INITIATIVE
Panaji: June 15, 2023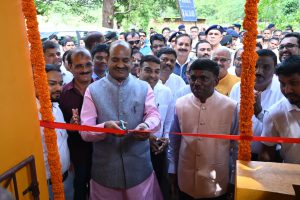 Lok Sabha Speaker, Shri Om Birla in presence of Speaker, Goa Legislative Assembly, Shri Ramesh Tawadkar; Chief Minister, Dr Pramod Sawant; Union Minister for State for Ports, Shipping and Waterways, Shri Shripad Naik and others hand over keys of Houses built under Shree Balram Charitable Trust to the 20 beneficiaries under the 'Shram-Dham' initiative at Cancona today.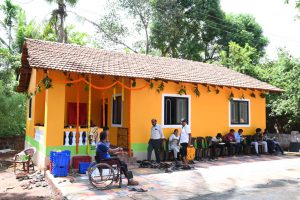 Speaking at the public function organised at Government Higher Secondary School Complex at Mastimol, Cancona Lok Sabha Speaker, Shri Om Birla said, through this Shram Dham concept community culture of the country can be seen. With labour cooperation, financial help and everyones efforts dream of poor and needy was realised to have their own house he said. Applauding the efforts of Shree Balram Charitable Foundation Shri Birla said, Shram Dham is really an remarkable initiative. It's an inspiration to the whole country. He said with community efforts dream of developed India will definitely come true.
Further speaking Shri Birla said, more then 3 crores needy families benifited through Pradhan Mantri Avas Yojana. Shri Birla also praised the development in the field of education, health and infrastructure in the State of Goa under the leadership of Chief Minister Dr Sawant.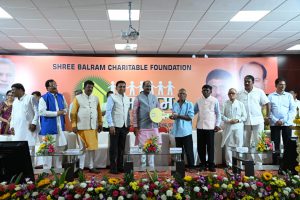 Chief Minister, Dr Pramod Sawant congratulated Shree Balram Charitable Foundation for the good work towards community and reiterated Government's commitment to support needy persons. Government have its own different schemes for the needy. One should keep positive point of view and take initiative in that aspect. He said Government will always extend all the required support to initiatives like Shram Dham which benifits community at large. Pradhan Mantri Awas Yojana and Atal Ashray Yojana are the two schemes from which needy can get financial support he said.
Further speaking Dr Sawant said, many opportunities are available in Goa for self employments. Atmanirbhar Bharat and Swayampurna Goa initiatives should go hand in hand for overall development of the State and Country. He appealed to all Canconkars to take the benefit of every scheme of the Government and make every effort to see that Cancona becomes the first Taluka of the State in overall development.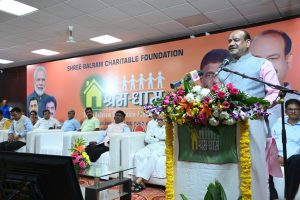 Shri Tawadkar said, Canacona Karyakartas had launched the Shree Balram Charitable Trust and had taken up construction of houses for needy families as part of the 'Shram-Dham' initiative. With the Shram of our Karyakartas and contributions in cash and kind from wellwishers and benefactors, we have now completed 20 houses. While Rs 10 lakh had been spent on one house, Rs 5 to Rs 8 lakh was spent on each of the remaining 19 houses, Tawadkar informed.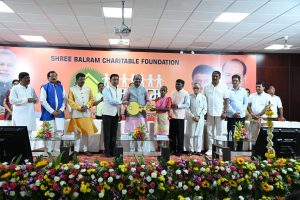 "We have set a target to build up to 150 houses in Canacona within the next three years and we will also assist other constituencies in their endeavour to take up similar challenges," said Tawadkar. "People have not only supported us with physical work, but many have contributed in kind and cash as well. Normally, we build houses with roof-tiles only, but we had to build one house with a slab roof at Palolem due to the prevailing situations there."
One should contribute to the society as his responsibility. Cooperation of every individual is very important for the overall development of the society. Mussels farming, dairy farming concept will be taken up as community projects and in turn the income which is derived from it will be used in Shram Dham initiative, Shri Tawadkar said.
Shri Shripad Naik said that the concept of Shram Dham has revived the old tradition of community coming together to help the needy among the community.
Shri Sadanand Tanawde also spoke on the occasion.
A booklet published of all 20 families with respect to their old dwelling unit and the type of new house built for them under the 'Shram-Dham' project was also released on the occassion. Audio Video on the Shram Dham Initiative was presented.
Shri Birla was also felicitated by Shree Balram Charitable Foundation.
MLAs Shri Ganesh Gaonkar, Shri Sankalp Amonkar, Shri Ulhas Tuyekar, Shri Krishna Daji Salkar, Shri V Satish, Shri Sadanand Tanawde, Shri Narendra Sawaikar were among the prominent personalities present on the occassion.
Shri Vishal Dessai welcomed. Shri Divakar Dessai proposed a vote of thanks.
Shri Om Birla visited the house of Shri Harischandra Naik at Passal, Poinguinim built under the 'Shram-Dham' initiative and also visited Shree Balram Residential School Complex built under central funds at Amone, Poinguinim during his visit.
DI/NB/AXP/SS/2023/