Governor attends special screening of 100th episode of Mann Ki Baat at Raj Bhavan
Panaji: April 30, 2023
Governor of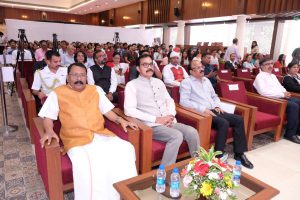 Goa Shri. P. S. Sreedharan Pillai attended the 100th episode of Prime Minister Narendra Modi's Mann Ki Baat episode screened at the Raj Bhavan today.
The special program was organized by CEO, Prasar Bharati at New Durbar Hall, Dona Paula.
Addressing the momentous occasion the Governor said, Prime Minister,'s Mann ki Baat is great achievement of our country. He said such programs were earlier conducted by Shri Nelson Mandela, both these programmes are mass conduct of the people, the Governor added.
Mentioning about Mann Ki Baat, the Governor said, this programme brings positivity in the minds of people. It does not criticise anybody. People of our country come together for betterment of India, betterment of the development and slowly we are achieving the goal based on concept of Swami Vivekananda "Vishwaguru". Bharat is Vishwaguru, he added.
Speaking further the Governor said, Unity of people in India, irrespective of caste, creed or politics is the halmark of our country. To take it forward and for further boost, Mann ki Baat plays a vital role. The Governor further said, programmes like Mann Ki Baat is the best mass movement through broadcasting. Addressing the people, contacting people, complimenting people and inspiring them through this process – the country is achieving development in various fields, the Governor added.
If we evaluate these 100 episodes of Mann Ki Baat impartially, this is one of greatest achievement of our mother of democracy, he remarked.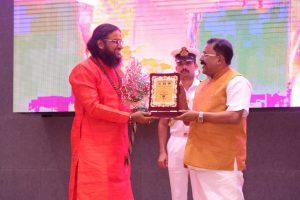 On arrival of Governor Shri P. S. Sreedharan Pillai was received by Shri. Sunil Bhatia (DDG(E), Shri.Raviraj Sartape DD(N) Doordarshan & Shri. Gautam Kumar, Dy. Director, Press Information Bureau Goa.
This momentous occasion was attended by Padma Awardees from the State of Goa. Padmashree Awardees Shri Vinayak Khedekar, Shri Bramhanand Shankwalkar and Parampujya Shri Sadguru Brahmeshanand Acharya Swami were felicitated at the hands of Governor by presenting mementoes.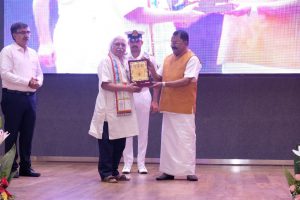 Shri Harilal Menon, Vice Chancellor, Goa University and Shri M. R. M. Rao, IAS, Secretary to Governor, Shri Guruprasad Pawaskar, Commissioner, Office of the State Commissioner for Persons with Disabilities , Shri Uday Kamat, Programme Executive, Goa Doordarshan were also felicitated at the hands of Governor on the occasion.
As part of event, the exhibition was organized which was inaugurated by Governor. The exhibition was organized by the Central Bureau of Communication showcasing some of the prominent themes covered in Mann Ki Baat as well as aspects from India's struggle of Independence.
Smt. Rupa Chari compered and Shri Savio Noronha, Programme Executive, Doordarshan proposed a vote of thanks.
DI/NB/AXP/SAG/2023