GOVT COMMITTED TO WORK FOR WELFARE OF EVERY COMMUNITY: CM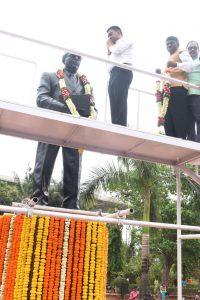 Chief Minister Dr. Pramod Sawant reiterated Government's commitment to work for the welfare of every community, leaving no one behind in the State. The mission of Swayampurna Goa has a clear objective to attain the objective of empowerment and development of all the people Dr. Sawant said at a function organized by the Directorate of Social Welfare to commemorate 132 nd birth anniversary of architect of the Indian Constitution Dr. Babasaheb Ambedkar at Dr. Ambedkar Garden Patto Panaji
today.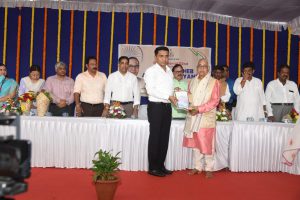 The Chief Minister said the Government has already initiated steps to fulfill the long pending demand of Dr.Ambedkar Bhavan in Goa. The ambitious project would be provided with all the required facilities/amenities along with a hostel for those who come from distance.
The Chief Minister speaking further declared birth anniversary celebratIon. of Dr Ambedkar as State festival which would be celebrated with much pomp and ferver hereafter.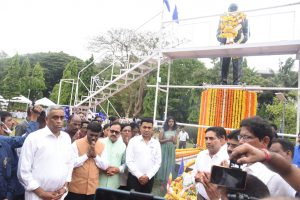 Minster for Sports & Youth Affairs Shri Govind Gaude said that if India wants to emerge as super power in the world, we need to work on the very objective and ideals of our Constitution.
The Minister speaking further stressed on the need to strengthen unity and rise against injustice and oppression. He said we have to study our Constitution to know our rights and duties. We are enjoying the privileges of being the largest democracy in the world due to the efforts of Dr. Ambedkar. It is therefore our bounden duty to pay rich tribute to him, he reiterated.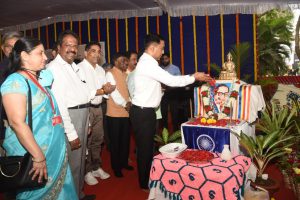 Minister for Social Social Welfare Shri Subhash Faldesai who presided over the function said that Dr Ambedkar laid his vision and ideals to make India the biggest democratic country in the world. We are fortunate to have Dr.Ambedkar as a world leader with high intellectually and vision. He appealed to the people to come together to achieve the Social objective, as success lies in unity. He advised to give up indifferences and cooperate with the Governments for the socio economic development of the society.
MLA & Chairman of GHRSSIDC Shri Pravin Arlekar in his address said that Dr Ambedkar had contributed immensely towards the liberation and emancipating of the downtrodden sections in the country. He urged the Government to complete all the formalities to laying the foundation for Ambedkar Bhavan as early as possible. He highlighted the importance of collective work which enables to achieve our objective on time. He also thanked Chief Minister Dr. Pramod Sawant for his endeavour towards the development of SC community in the State.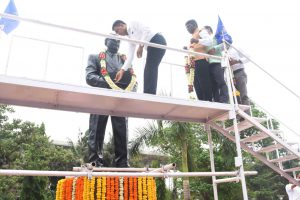 Senior Social workers among SC community who were awarded with Dr Ambedkar Award for Social work at the hands of Chief Minister were Shri Vasant Parwar Borim Ponda, Shri Arjun Jadhav Deulwada Korgao, Shri Damodar Kudalkar, Vasco, Bhanudas Korgaokar Napusa etc .
Earlier The Chief Minister Dr.Pramod Sawant garlanded the statue of Dr Babasaheb Ambedkar along with Speaker of Goa Legislative Assembly Shri Ramesh Tawadkar, Minister for Sports and Youth Affairs Shri Govind Gaude , Minister for Social Welfare Shri Subhash Faldesai , Power. Minister Shri Ramkrishna alais Audi Dhavlikar, MLA & Chairman of Goa Handicraft Shri Praveen Arlekar, Secretaries and HODs various Government on the occasion.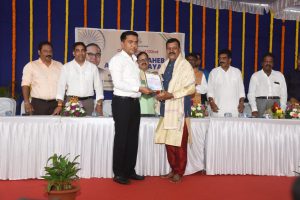 The Government felicitated the Students among SC who have excelled at S.S.C. and H.S.S.C examination for the academic year 2023.
MLA Mandrem. Shri Jeet Arolkar, Chairman OBC Corporation Shri Manohar Adpaikar, Commissioner SC/ ST Commission Shri Dipak Karmalkar, Chairman EDC Shri Sadanand Shet Tanavde Chairman SC/OBC Finance & Development Corporation Shri Anil Hoble, MS.Kala Academy Shri Vinesh Arlekar, Collector North Goa Smt Mamu Hage IAS, Principal Secretary Finance Dr.V. Candavelou, Secretaries and HODs of various Government were among those who participated in the function.