GOVERNOR CHAIRED HIGH LEVEL DELEGATION MEETING OF G20 SUMMIT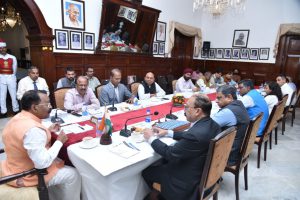 The Governor Shri P. S. Sreedharan Pillai chaired a meeting with high level delegation of G20 summit at Raj Bhavan today.
Shri Sanjit Rodrigues, Secretary, Protocol and Nodal Officer G20 Goa State briefed about the meetings that would be held in Goa shortly.
Shri Harsh Vardhan Shringla, G20 Chief Coordinator, Sh. L Ramesh Babu, JS (Summits), Col. Vivek Arya, OSD(Logistics), Sh Ashok Kumar Sharma, Consultant(Logistics), Mr. Arvind Singh, Secretary, Ministry of Tourism, Govt. of India, Mr. Jasvinder Singh, Director G20, Ministry of Tourism, Ms. Radha Katyal Narang, Director G20, Ministry of Tourism, Mr. D. Venkatesan, Regional Director, Indian Tourism West, Ministry of Tourism, Mr. R K Dhawan PS to Secy, Ministry of Tourism, Shri Dhiraj Wagle, Dy. Director, GTDC were present during the meeting.
Governor Shri Pillai briefed the delegates of G20 summit about the various programmes and initiatives taken by the Raj Bhavan. India is a wonderful country and that Goa is surrounded with rich cultural heritage which adds beauty to our country. I have visited and acquainted with various places in Goa, he added.
Briefing about the 'heritage yatra', the Governor informed the delegates that he has undertaken the southern part of the State to learn about the rich eco-cultural traditions attached to the trees. Such information must reach the people in publication format, he added.
Shri M. R. M. Rao, IAS, Secretary to Governor was also present during the meeting.
Governor later took the delegates around Raj Bhavan.
DI//NB/AXP/SAG/2023/