ASSAM DELEGATION INTERACTS WITH CM Evinced keen interest in the implementation of S. Goa concept
Panaji: February 28, 2023
Chief Minister Dr Pramod Sawan     t today interacted with the delegation of government officials from Assam who are on two days study tour to understand the Swayampurna Goa Concept at Mahalaxmi today.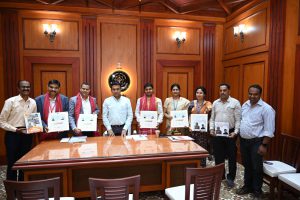 Sharing their experience the delegation of government officials from Assam said that the concept of Swayampurna Goa and it's implemention in Goa is amazing, very unique concept to reach out to the last person of the State whereby it ensures people can avail all the Government facilities, schemes etc. Hardwork and coordination between the people and Government Officials is visible clearly.
The best part of Swayampurn Goa Concept is its implementation at the grassroot level. The new model of development and the reflection of collective efforts of government is directed to make people from all walks of life self reliant.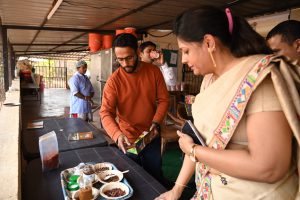 Shri Bikram Kairi, IAS Commissioner requested Chief Minister to send the Goa team to Assam.
The delegation of government officials from Assam, led by Shri Bikram Kairi, IAS Commissioner and P&RD, Assam, Smt. Bipanchi Dutta, ACS, Assistant Commissioner, Shri Bipul KR Das, ACS, Assistant Commissioner, Dr. Jayanta KR Goswami, ACS, Addl Commissioner, and Smt. Anamika Dey, State Programme Manager saw for themselves the different initiatives taken by the Swayampurn Mitras in there designated Panchayat area under the Swayampurna Goa Concept across the State.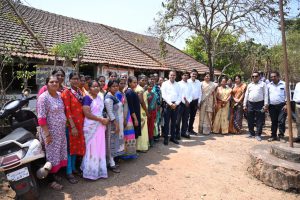 On the second day of their study tour to Goa they attended the awareness camp on Fisheries Schemes and Policies organised by the Directorate of Fisheries Department under the Atmanirbhar Bharat Swayampurn Goa Concept at Kamurle.
The camp was innaugrated by the Minister for Fisheries Shri Nilkhant Halarnkar wherein the delegation were apprised of the various schemes, policies and other initiative implemented by the Fisheries Department In Goa to boost and strengthen the fisheries sector in the State .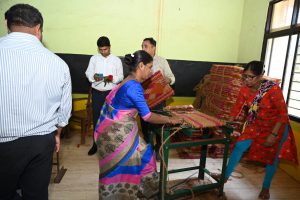 They also visited the GOVAN Multiproduct Food Processing Centre at Pale where the women make products like nutmeg ring candy, amla candy and amla mouth freshner, banana chips, jackfruit pulp, raw jackfruit pickle, coconut oil and other products which are innovated on their own. The delegates were very impressed to see that multi-product processing centre, which use locally available produce like excess amla, jackfruit, kokum or mangoes, and turn them into valuable products apart from providing employment to local women.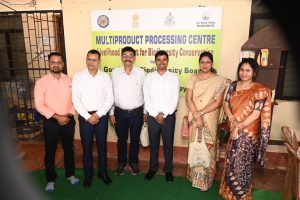 Later, they visited the Cloth Cutting Machine, Sewing Machine / Screen at Sankhali and than they visited Mattress Manufacturing and Kunbi Saree Production Unit Surla thses all units setup under the Atmanirbhar Bharat Swayampurn Goa Programme.
Earlier they visited the Surla Panchayat to see the house constructed under CSR.