INTERNET IS A BRAIN BANK – SHIRODKAR
Panaji: December 22, 2022

Minister for Water Resources Department, Shri Subhash Shirodkar has said that with the right use of the internet at primary school level itself the whole world gets open to the students. With the use of the internet they get much better knowledge and exposure and they get empowered with wisdom and called the Internet as a brain bank. He said, there is no substitute for hard work and discipline of time.
Shri Shirodkar was speaking at the Mathgramasth Hindu Sabhas, Shree Damodar Higher Secondary School of Science, Margao Annual Cultural Programme and prize distribution ceremony held at Gomant Vidya Niketan Hall/Margao today.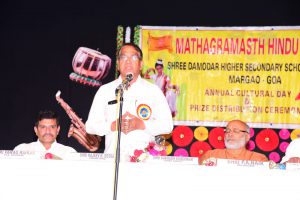 Shri. Shirodkar said, to come up for any state or country it only depends on educational institutions. He said Goa has 450 institutes at secondary level, 1000 primary schools, 110 higher secondary and almost 50 colleges. He said, with this adequate educational infrastructure Goa will surely emerge as one of the best States in the country. He said, as and when opportunities arise, parents should accompany their children. Experience of a parent's life gives supportive strength to their children. Unless one doesn't take a mission type of attitude and dedication, one will not be able to achieve the position in society. One should have wisdom and a versatile mindset. He said, National Education Policy does not speak about multistoried educational buildings or starred infrastructure but it speaks about the change in teaching and learning process and multi dimensional personality for the students. He should study a lot and become knowledgeable, the Minister added.
Speaking about Shree Damodar Higher Secondary school of science he said this institute gives maximum exposure to the students and it is one of the best institutions in the State.
Chairperson, Shri Damodar Shirodkar said, only education is important in life.
President, Mathgramasth Hindu Sabha and Manager of the School, Shri Bhai Naik said, annual cultural day and prize distribution ceremony always refresh minds.
Educationist Shri Anil Pai also spoke on the occasion.
Management Executive, Mrs Reema Kunde; Chairman of PTA, Shri Parag Raikar; Principal, Shri Rajiv Dessai and others were present on the occasion.
Shri Rajeev Dessai and Shri Ramprasad Naik presented the annual academic report of the school. Shri Chandrakant Shinde introduced Shri Subhash Shirodkar. Shri Subhash Shirodkar felicitated meritorious students and also presented prizes to the winners of various yearalong activities.
DI/NB/PN/SS/2022/1270