KUNBI OFPO INAUGURATED, CM ASKS WEAVERS TO BECOME ENTREPRENEURS
Panaji: October 17, 2022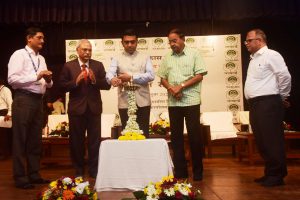 The Chief Minister, Dr Pramod Sawant inaugurated the Off Farm Sector Producer Organisation (OFPO), for Kunbi handloom weaving today in Panaji. The OFPO is being coordinated by the National Bank For Agriculture and Rural Development (NABARD). While speaking on the occasion, Dr Sawant informed that land for the Handicraft Village in Sanguem has been earmarked and stressed on the need to create skilled manpower in this field for which he said the Government has gone the extra mile to impart training to women in Kunbi handloom weaving.
The Chief Minister asked kunbi weavers to take the initiative and start their own enterprise by availing Government assistance like loans etc. He said that if Kunbi fabric products are well-marketed and manufactured as per market requirements, it can increase their monetary value.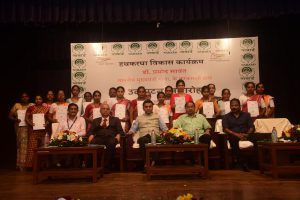 Dr Sawant said that there were a lot of opportunities to promote Kunbi fabric products such as using Kunbi shawls at Government functions, gifting Kunbi fabric products during official visits etc. He asked those in handloom weaving to register themselves as artisans under Government of India and avail benefits that are open to them. He emphasized on the need to make women Atma Nirbhar and Swayampurna in the true sense.
The CM handed over sanction letters to the FiiRE team who will oversee and guide the working of the organization. Dr Sawant felicitated traditional handloom weavers for keeping the tradition of weaving going.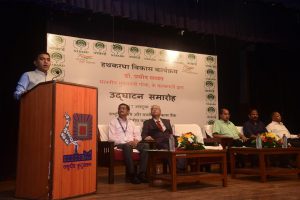 The Minister for Handicrafts, Textiles and Coir, Shri Ravi Naik, said that when women progress a country progresses and asked women to come forward and take benefits of the training being imparted to learn kunbi handloom weaving.
Currently, the Kunbi weaving project is being done at the Pernem cluster. Pernem MLA, Shri Pravin Arlekar, in his address assured those involved in kunbi weaving in Pernem of providing transport to help these artisans sell/market their products.
Director of Department of Handicrafts, Textile and Coir, Shri Arvind Bugde, informed that in a short span of few months, the Department had trained lot of people in kunbi handloom weaving in order to be eligible to avail Central Government scheme for the weavers.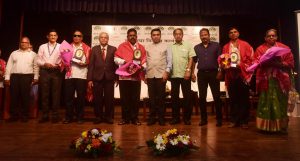 Chief General Manager, Off Farm Sector Development Department, NABARD, Head Office, Mumbai, Shri Devasis Padhi, said that with the entry of power looms, the existence of handlooms had become difficult resulting in decreasing number of Kunbi weavers. He however, said that with proper and efficient marketing and presenting of Kunbi fabric products, weavers can get a good rate for them and that these products can be sold to tourists.
Present on the occasion was General Manager, Officer-in-Charge, NABARD, Goa Regional Office, Dr Milind Bhirud, Director of Forum for Innovation Incubation Research and Entrepreneurship (FiiRE), Fr Kinley D'Cruz, NABARD officials, weavers, among others.
DI/NB/AXP/CR/2022/1012