KHAUNTE ASSURES TO RESOLVE CONNECTIVITY ISSUES, BEAUTIFY FORT DURING QUEPEM TOUR
Panaji: October 17, 2022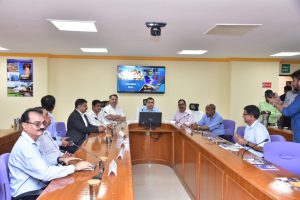 The Minister for Tourism and Information and Technology, Shri Rohan Khaunte assured the locals of Quepem, during his taluka tour, of improving net connectivity in the villages. He said the Government will try it's best to sort out issues related to connectivity. Present during the tour were Minister for Public Works, Shri Nilesh Cabral, Minister for Social Welfare, Shri Subhash Phaldesai, Quepem MLA, Shri Altone D' Costa, former Deputy Chief Minister, Shri Chandrakant Kavlekar among others.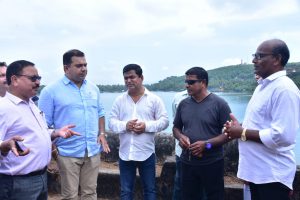 Shri Khaunte has been assigned to the Quepem constituency to understand different issues facing the people. He also visited the historical Betul fort. The locals informed the elected representatives regarding the anti-social elements creating issues in the vicinity. The police have been asked to start patrolling the area immediately. The locals also demanded the restoration of the historical Betul fort. Shri Khaunte assured them of doing so after following the due process. Presently, the fort comes under the jurisdiction of Customs.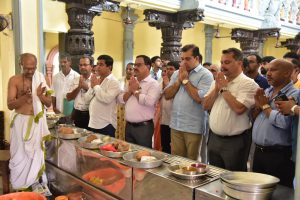 Shri Khaunte later visited Oil and Natural Gas Corporation Limited (ONGC) where a presentation was given of its activities. ED head The Institute of Petroleum Safety, Health and Environment (IPSHEM), Shri Sanjiv Singhal, N N Ray and other officers were present.
During his tour, Shri Khaunte and the others visited the Shree Shantadurga Kunkalikarin, Shree Shantadurga Fatarpekarin and Saptakoteshwar temple and took blessings.
DI/NB/AXP/2022/1013