GOA@60 ROADSHOW AT MYSURU, KARNATAKA RECEIVES OVERWHELMING RESPONSE FROM VISITORS
Mysuru: October 17, 2022
 The Government of Goa organised Goa@60 Mall Promotion – A grand celebration event in Mysuru from October 14- 16th, 2022 at the Nexus Center City, Mysore, Karnataka . People in Mysuru experienced Goa's authentic cuisine, Goa's cultural and traditional dance performances besides Goa's live band in attendance. Goa showcased its rich culture and traditions through various live events. The main attractions of this event was performances of Goa's indigenous bands like The Klixs Band , The Steel along with Cultural dances such as Shigmo Parade, Ghode Modni, Zagor, Divli – The Lamp dance, Kotti Fugdi (coconut shell dance), The Veerabhadra dance, Corridinho and Carnival Parade which were performed by Goan Dance Troupe. The main attraction of the event was the cheerful parade of King Momo, the face of Goan Carnival.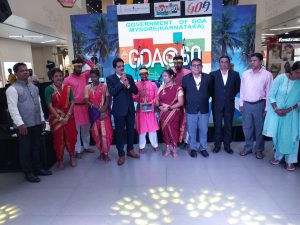 The delegation of Government of Goa comprising Shri Deepak Narvekar, Dy. General Manager Mktg, Goa Tourism Development Corporation, Shri Gajanan Mahale, Asst. Director, Department of Tourism, Shri Jayesh Kankonkar ATO, Department of Tourism, Shri Anil Dalal, Manager, Goa Tourism Development Corporation, Shri Vishnu Gauncar, Translator, Department of Information and Publicity, Smt. Rasika Naik, Translator, Department of Information and Publicity highlighted the achievement and development in Goa after Liberation. Delegation also highlighted the vision of the Goa Government for taking Goa to greater heights in the coming years by adding infrastructure like the new Green Field international airport at Mopa, developments in information technology, new services for tourism, better transport facilities, and measures taken to enhance safety and security for the local population and visitors to the state.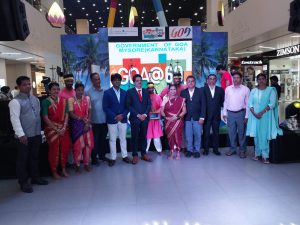 Rich tributes were paid to all those who fought for the liberation of Goa from the Portuguese and also those who worked to enable Goa to attain Statehood, which holds high admiration among the people of Goa.
The top officials from the Government of Goa were a part of this celebration, Goa@60 in other 5 cities.
The event which was held in another 5 cities – Ahmedabad, Udaipur, Varanasi, Madurai, Thiruvanatapuram also received excellent response from visitors, travel agents and tour operators.
Shri Deepak Narvekar, Dy.General Manager & PRO of Goa Tourism Development Corporation while speaking during the events highlighted the main vision of the Government of Goa to hold events Goa@60 in six cities and thanked the Government of Goa led by the young dynamic Chief Minister of Goa, Dr Pramod Sawant, Tourism Minister of Goa, Shri Rohan Khaunte, Dr Ganesh Gaonkar, MLA and Chairman of Goa Tourism Development Corporation and all the cabinet ministers along with Department of Information and Publicity, Department of Tourism, Goa Tourism Development Corporation etc for making this event a great success.
He also highlighted various facets of Tourism, new tourism products in Goa, Hinterland Tourism, Wedding Destination, MICE Tourism, Ayurveda and Wellness Tourism etc.
Shri Gajanan Mahale, Asst Director Department of Tourism also shared his views during the event giving information regarding beach safety measures and facilities at beaches and security at Goa's beaches.
The Goa Government delegation also urged the people of Mysuru to visit Goa for their holidays and to witness spectacular festivals like Goa Deepotsav 2022, IFFI Goa, Christmas and New year celebrations, Carnival and Shigmo festival in Goa. Delegation informed visitors that Mysuru is well connected to Goa by air, rail and road and they can frequently travel to Goa for holidays.
DI/NB/AXP/CR/2022/1014