ELDERLY PEOPLE NEED WORD OF LOVE & AFFECTION: PILLAI
Panaji: Oct. 16, 2022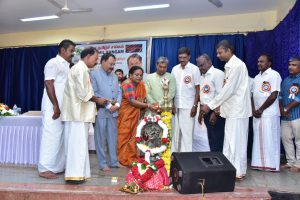 Elderly people in our families don't expect much in terms of money from their children, family members but a word of love and affection said Governor, Shri P. S. Sreedharan Pillai commemorating " World Old Day, organized at Raj Bhavan Dona Paula today.
Indian Medical Association – Goa State in collaboration with Goa Raj Bhavan organized a function to commemorate "World Old Day at Raj Bhavan. The Theme of this year was "Care of the old with a Heart of Gold".
The Governor said that the senior citizen are treasures of knowledge and are part of our society. We are duty bound to take care of them during their old age. During my Goa Sampurn Yatra, I visited old age homes and was happy to interact and helping those old age homes working for elderly people in the State, he informed.
The Governor speaking further said that in Indian society everyone seeks permission from their elders to go out of the home. It is a sign that younger children respect their elderly people. This indicates that there is sense of values in our societies which is rare as days go by, he added.
President of Indian Medical Association – Goa State Dr. Rufino Monteiro urging to take care of our elderly people said a word of affection is their basic expectations which makes them to live happy. Indian Medical Association conducts medical camps for elderly people and rendering medical services. He thanked Governor for extending full cooperation for the organization of function.
The inmates of the Old age homes who paricipated in the function included are
Nazareth Home Navelim Mother Merry Heaven Calangutet, Heart of Good Hope Candolim, Christ Raj Taleigao,Sanjivan Society Bandoda, Misdionaries of Charities. etc.
Member of Baba Sawaikar Seva Pratishthan Day Care Centre for Senior Citizen Bicholim Shri M. K.. Patil, Shri M. K. Patil submitted a memorandom of demand to the Governor requesting him to look into creation of Commission for Senior Citizens and Nana Nani Parks for senior citizen in every Village Panchayat area. He also handed over a book titled "Palliative Care, original written in Malyalam language based on rural health. Mr. Patil also requested the Governor to get it translated in Marathi and Konkani languages.
Member of Baba Sawaikar Seva Pratishthan Day Care Centre for Senior Citizen Bicholim Shri M. K.. Patil;
President Shri Ramchandra Pal, Senior Forun Goa Bicholim Branch Secretary Shri Venkatesh Natekar, Dinanath Tari, Trustee Shri Ramakant Shetye Sawaikar, ADC to the Governor Shri Darshan Shankar Reddy, Treasure IMA – Goa State , Dr. Dayanand Nayanan; Ex- President IMA- Goa Dr. Shekhar Salkar; elderly people drawn from various oldage homes from Goa attended the function.
Dr. Rufino Monteiro presented mementoes to the Governor and other dignitaries.
Co-ordinator IMA – Goa State Dr. Amol Mahaldar compered the function.
Secretary IMA – Goa State Shri Amol Tilve proposed the vote of thanks.
DI/ INF/ NB /DB /AP/NP/2022