CM launches induction training prog for newly elected panch reps
Panaji, September 12, 2022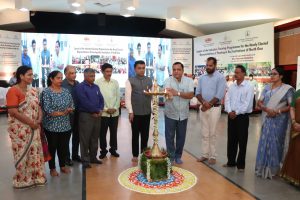 Chief Minister, Dr. Pramod Sawant today launched the induction training programme conducted by Goa Institute of Public Administration and Rural Development (GIPARD) for newly elected representatives of village panchayats at community hall in Taleigao.
While addressing the gathering, Dr Sawant said that panchayats have immense scope to carry out innovative developmental works which can benefit the people of the village. Stressing on how panchayats play an important part in governance, he said that panchayats have a role beyond routine work such as cleaning drains, issuing NOCs etc.
He called upon panchayat representatives to undertake projects which help the locals and said that the Government would help them fund these endeavours.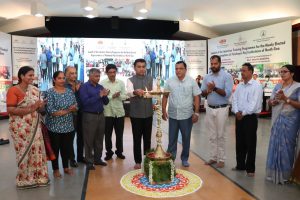 Minister for Panchayat Raj, Shri Mauvin Godinho urged elected representatives to help tackle issues such as garbage management. He said that with rights comes duties and elected representatives should focus on performing their duties for which the Government is always there to support them.
Secretary for Panchayat, Shri Menino De Souza, IAS speaking on the occasion said that it was Mahatma Gandhi who envisaged Gram Swaraj where power lies with the people and said that the driving force behind Panchayat Raj should be the people . He urged panchyats to protect their village heritage and culture while considering development.
Chairperson of State Finance Commission, Shri Daulat Hawaldar, IAS(Retd) spoke of the Commission's plans to visit panchayats across Goa to interact with panchayat bodies to listen to people' representatives and give them guidance and direction. Goa government has been very liberal in giving grants to panchayats in Goa, he remarked.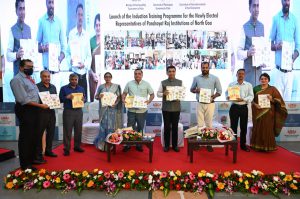 Earlier, Director of GIPARD, Shri Michael De Souza, IAS, welcoming the gathering said that this mandatory training for elected representatives will see guidance being given on three important parts related to Panchayat Raj which are Functions, Functionaries and Funds.
Present on the occasion were Chairperson of North Goa Zilla Panchayat, Shri Siddesh Naik, Deputy Chairperson of North Goa Zilla Panchayat, Ms Diksha Kandolkar, Sarpanch, Taleigao Panchyat, Shri Janu Rosario, among others.
This training programme will be conducted for newly elected representatives in batches at Block Level from next week onwards.
DI/NB/AXP/CR/2022/