DEDICATE YOUR LIFE FOR A CAUSE: PILLAI
PANAJI: August 25, 2022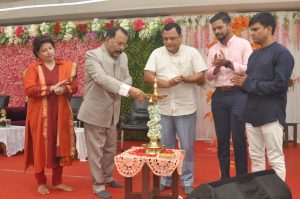 Serve the people at your level and dedicate your life for cause said Governor, Shri Sreedharan Pillai. If one is doing everything only for his/her near and dear ones, than you are not fit to be a people's representative. Amalgamating all types of wealth in the name of public work is not correct. People's representative should show love, affection, kindness and dedication across society while serving the people.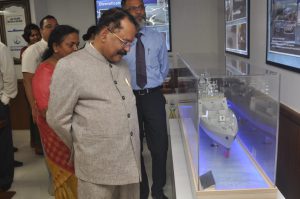 Governor was speaking at the interaction programme with the newly elected panchayat members of Sancoale, Cortalim, Cavelossim, Velsao – Pale and Cansaulim Village Panchayats at Kala Bhavan, Sancoale and Panchayat members of Chicalim Village Panchayat and Chikolna Bogmalo Panchayat at Chicalim Village Panchayat hall.
Highlighting the importance of mother tongue, he said substantial population have their mother tongue as Konkani in Kerala, Karnataka, Maharashtra and Goa. Considering this and being the Chancellor of Goa University, I have given directions to the University to start Konkani educating centres in this four States. These centres will be started soon in Cochin and Mangalore, he declared.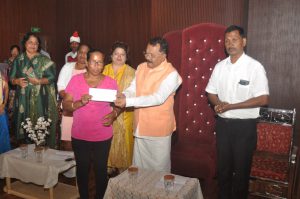 The Amendment to article 73 and 74 were made to decentralize power to the people of the land. Supremacy of the people should prevaile. GDP rates shows that Goa is the richest State of the country and appealed to the people to increase the Happiness Index. Satisfaction of the people is important. Social workers and elected representatives should ensure that promises made to the people are fulfilled. Welfare means a least minimum things to all. Gramswarajya means freedom to the villages. Village people are the backbone of the country. Condition of the village is the criteria for assessment of the development of any State or the country, he remarked.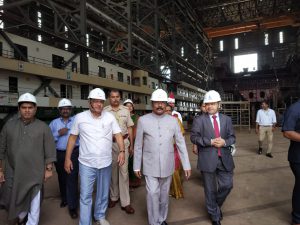 Further Governor, Shri Pillai informed that he started Sampurna Goa Yatra after assuming the charge of Goa as Governor and have covered more than 60% Villages in the State and pointed that villages are more beautiful than beaches. Mahatma Gandhiji is of the opinion that only through Gramsvarajya, villages of the country can be developed. Surajya after getting Swarajya can be obtained through only Gramswarajya, he added.
Expectations of the people from the newly elected panchayat members is quite high, he said and appealed to the panchas to work hard dedicatedly to cause of the people. Development of the country is vested with the people of villages. Village people are hardworking. Goan villages are beautiful and have big heart apart from appreciable behaviour, culture and approach. People also live cordially and cooperate with each other, he added.
100 institutions and also 400 dialysis patients were provided financial aid through Raj Bhavan discretionary fund. Elected representatives or any appointed person in the Government and in the system is bound to serve the people, he said.
Within next 6 months I will complete my visit to all the villages in the Goa and it will be a remarkable achievement in the history of India, he said.
Minister, Shri Mauvin Godinho asked what better thing to do than interacting with the newly elected grassroot level new leaders of the society. When we come to this world each one is assigned by certain task by the almighty, we get this task assigned to us by choice, some by chance and as we say, some with destiny. This country cannot work without good bureaucrats. He urged the Panchayat Secretaries to guide the panchas to work efficiently for the public. Whatever best has to happen has to start from the grassroot level. Panchayats are the roots of the democracy. If the roots are strong, trees can grow huge and large and provide shelter and shed to entire population. This time many youths are elected in the recently held panchayat elections. We will see many new things coming in the panchayats including new ways of working and awakening, he remarked.
MLA, Shri Antonio Vas appealed all panch members to work for the people and assured his full support in their endeavour for Development.
Governor, Shri Sreedharan Pillai visited Mormugao Taluka with wife Smt Reeta Pillai today.
At the start of the visit Shri Pillai visited Shree Shantadurga Lakshmi Nrusinha Sakhlyo Devasthan, Sancoale and invoke blessings of the diety.
MLA, Cortalim, Shri Antonio Vas; Sarpanch, Sancoale Panchayat, Smt Rohini Toraskar; Deputy Sarpanch, Shri Girish Pillai; Additional Collector, South, Shri Paresh Faldessai; Deputy Collector, Shri Ravishankar Nippanikar; BDO, Mormugao, Shri Prasidh Naik; Devasthan President, Shri Sandip Naik and other committee members welcomed the Governor.
Thereafter Shri Pillai visited St. Cosme and Damiao Church, Bogmalo and offered prayers. He was welcomed by Minister, Shri Godinho; Fr Teo Fernandes; Zilla Panchayat Member, Smt Anita Throat; Sarpanch, Chikolna Bogmalo Panchayat, Shri Sankalp Mahale; Deputy Sarpanch, Smt Lorina D'cunha and Church Committee.
At the programme held at the Chicalim Panchayat hall Minister Shri Goudinho; ZP, Smt Thorat; Sarpanch, Chicalim Village Panchayat, Kamla Prasad Yadav; Sarpanch Chikolna Bogmalo Panchayat, Shri Sankalp Mahale; Secretary to Governor, Shri Mihir Vardhan, IAS(Retd) were present.
The Governor also distributed financial assistance to 20 dialysis patients on the occasion.
Team Manthan presented welcome song. ZP, Smt Anita Thorat proposed vote of thanks.
Governor at his visit at Goa Shipyard Limited Complex was welcomed by Chairman and Managing Director, Shri Brijesh Kumar Upadhyay; General Manager, Production, Shri P Ravindran and Director, Corporate Planning, Captain Jagmohan. Governor visited the new construction section, ship lift area and Museum inside the complex. MLA and Chairman, South Goa Planning and Development Committee, Shri Daji Salkar and Collector, South Goa District, Smt Jyoti Kumari, IAS were also present.
Miss Tanvi Bambolkar compered.
DI/NB/AXP/SS/2022/