SHIRDICHYA SAIBABA" BHAKTI GEET RELEASED
August 11, 2022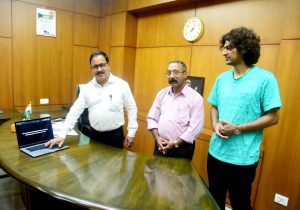 Minister for Social Welfare Shri Subhash Phal Dessai released new video bhakti geet "Shirdichea Saibaba" produced by John Aguiar at Secretariat, Porvorim today.
Speaking on the occasion Shri Phal Dessai lauded the efforts of the artistes specially Shri John Aguiar and Shri Mukesh Ghatwal for giving a beautiful bhakti song in the festive season of Shravan. Music, he said, is a kind of sacred technology with a long history.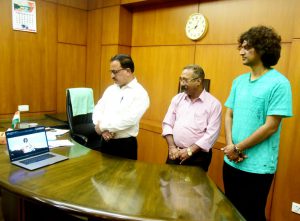 He hoped that the music video will help devotees concentrate on blessings and remember the good things in life. "It's a very divine music video and composition by Mukesh which will touch the hearts of Saibaba devotees. About lyrics by Shri Aguiar, he said, every word, every sentence has a meaning to it.
The lyrics of the song are penned by well known poet and lyricist Shri John Aguiar while the song is composed and sung by renowned musician Shri Mukesh Ghatwal. The video presented by Deepanjali Prakashan has been concepted and co produced by Shri Mukesh Ghatwal.
DI/NB/AXP/GJG/2022/759