TILAK PUNYATITHI OBSERVED AT DIP
August 01, 2022
Sravana 10, 1944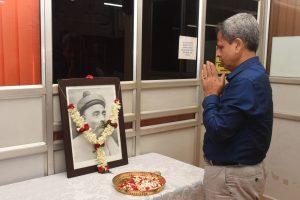 The death anniversary of Bal Gangadhar Tilak popularly known as Lokmanya Tilak was observed in the office premises of the Department of Information and Publicity today.
Director, Shri. Dipak Bandekar garlanded the Portrait of Lokmanya Tilak, a great freedom fighter and renowned journalist and paid floral tributes. This was followed by offering of floral tributes by the officers and officials of the Department.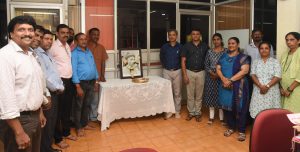 Speaking on the occasion, Information Officer Shri. Prakash Naik said that Lokmanya Tilak was one of the first and strongest advocates of Swaraj. He Said Tilak's social contribution was immense which is evident from the fact that Tilak started two weeklies i.e Kesari in Marathi and Mahratta in English. Similarly Tilak transformed the household worship of Lord Ganesha into a grand public event, he added
Shri. Naik further said the media is regarded as the fourth pillar of democracy and journalists are the eyes and ears of society. In this context, he highlighted the imperative need to focus on fearless, investigative and constructive journalism which is the need of the hour. He said, we should follow the ideas and principles of Lokmanya Tilak to bring much needed transformation in the society.
Shri. Shyam Gaonkar, Assistant Information Officer who welcomed and compered the programme spoke on the significance of observing Lokmanya Tilak Punyatithi.
DI/NB/PN/RM/2022/729