Cabral launches Jetpatcher machine
July 6, 2022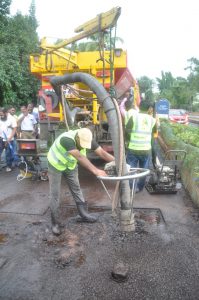 PWD Minister, Shri Nilesh Cabral today launched Jetpatcher machine which will help to fix the potholes in the State at Taleigao.
Speaking on the occasion Shri. Cabral said that this machine is used not only in India but across the globe in various forms in getting the potholes filled. Every year we face the problems of potholes during monsoons. The reason behind the causes of potholes is mainly due to digging of the roads by the agencies/PWD dept to carry out the work of laying cables, water connection, sewage connection etc. Taking all this into account the PWD department has procurred two Jetpatcher machines, he said.
One machine each will be stationed in both the districts he informed and added that the work order for this would be issued on nomination basis, as the company has given us an 18-months guarantee after repairing the pothole and based on which the department has given them a work order. The dept will also monitor their work, he pointed.
Speaking further he informed about the app developed by PWD department is currently accessible only for junior engineers. They will visit various areas for the next two months and click pictures of potholes which will be sent to the contractor. The contractor will repair the potholes. The app will be named after taking suggestion from public and will be made accessible for public soon, he remarked.
Shri. Cabral also had a live demonstration of the pot hole patching.
Present on the occasion were MLA, Taleigao, Jennifer Monserrate, CCP Mayor Rohit Monserrate and other dignitaries.