Bhoomi Pooja of Goan soil held
Panaji, July 29, 2022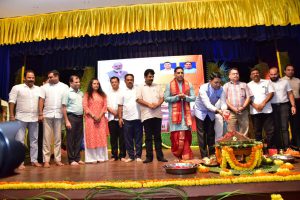 India has excelled under the leadership of Prime Minister, Shri Narendra Modi, said Chief Minister, Dr Pramod Sawant who was speaking at the Bhoomi Pooja of Goan soil, at a function held at Institute Menezes Braganza, Panaji, today.
Dr Sawant further said that Shri Modi was taking several initiatives to make India a superpower. He elaborated on India's economic reforms and public policy implementation, confidence building steps among other things that he said has given every Indian an opportunity and reason to excel.
Dr Sawant said that a new Parliament was needed to keep up with changing times and technology. He said the combination of soil from every part of India and every nook and corner of the country for construction of the new Parliament was representative of the aspirations of countless Indians.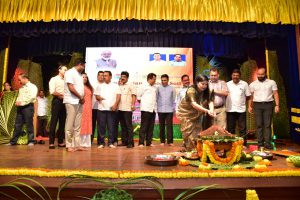 Bhoomi Pooja of Goan soil is a programme to send Goan soil for the Central Vista Re-development Project for the new Parliament Building in New Delhi.
Earlier, Guest of Honour, Minister for Art and Culture, RDA, Sports and Youth Affairs, Shri Govind Gaude, welcomed the gathering and said that this was a special moment for all where Goan soil will be used along with that of other States for the construction of the new Parliament in the Capital of India.
He said that this was an opportunity for the young in Goa to dream of reaching Parliament because we cannot underestimate destiny.
Minister for Social Welfare, Shri Subhas Phaldessai, in his vote of thanks, said that this initiative of sending Goa's soil for the construction of new Parliament was symbolic of India's Unity in Diversity and that whenever we go to the new Parliament, we will feel a sense of pride.
Present on the occasion were Minister for Fisheries, Shri Nilkanth Halarnkar, MLAs, Smt Jennifer Monserrate, Shri Joshua D'Souza, Dr Chandrakant Shetye, Shri Ganesh Gaonkar, Shri Jit Arolkar, Mayor, CCP, Shri Rohit Monserrate, State BJP President, Shri Sadanand Shet Tanavade, NRI Commissioner, Shri Narendra Sawaikar, Secretary, Art and Culture, Shri Subhash Chandra, IAS, Director, Art and Culture, Shri Sagun Velip among others.
DI/NB/AXP/CR/2022/725