AMTHANE DAM TO BE UPGRADED SOON: WRD MINISTER
Date – 26/5/2022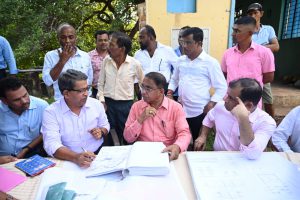 Water Resources Minister Shri Subhash Shirodkar has assured people from Sal village in Bicholim taluka to solve their problems and difficulties. Shri Shirodkar gave this assurance after holding the portfolio of WRD. Shri Shirodkar has embarked upon visiting various existing dams and lakes in the state.
On His visit to Amthane Dam and in Sal Village in Bicholim taluka, the Minister inspected various flooding points in and around Sal Village yesterday.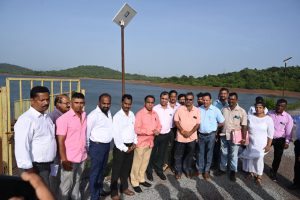 After visiting Amthane Dam, the WRD Minister said that the water released from the Dam should be used for drinking and agriculture purposes. He underscored his efforts and support for up gradation of the project by spending 100 crores. He promised the locals to supply the water for farming activities.
Interacting with the farmers and locals, the Minister assured to take up the desilting work of Sal River on priority.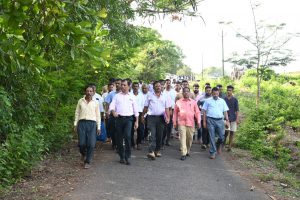 During his visit Dr. Chandrakant Shetye, MLA, Bicholim, Shri Pradip Revodkar, ZP Member, Chief Engineer of Water Resources Department Shri Pramod Badami, Executive Engineer of Bicholim, Shri K. P. Naik, Engineer, Shri Dnyaneshwar Salelkar, Assistant Engineer Shri Naresh Pokle, Junior EngineerShri Vinod Bhandari and Siddharth Shirodkar were present.
Shri Ghanashyam Raut, Sarpanch Sal, Ms. Varsha Salkar, Deputy Sarpanch, Ms. Bindiya Raut, Shri Prakash Raut, Panch were also present.
DI/NB/SAG/PN/2022/496