GOVERNOR FELICITATES NCC CADETS OF GOA & KARNATAKA
Dated 5/5/2022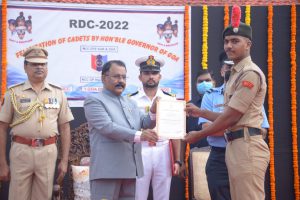 Governor of Goa, Shri. P. S. Sreedharan Pillai hosted an at home function in connection with the felicitation of the NCC Cadets of Goa and Karnataka in the Republic Day Contingent – 2022 yesterday.
Rear Admiral Vikram Menon (VSM), Flag Officer Commanding, Goa Area Air Commodore B. S. Karwar (VSM), Deputy Director General, NCC Directorate Karnataka & Goa, Brig. A.S. Sawhney, Commandant, 2 Signal Training Centre graced the felicitation function.
Addressing the function the Governor said, the Raj Bhavan has a proud tradition of recognising and appreciating people from all walks of life for their achievements. We have celebrated many such moments during the last 10 months, he added. He expressed happiness in appreciating the NCC youth for their achievements.
The Governor further said, the NCC aims at developing character, comradeship, discipline and a secular outlook, the spirit of adventure and ideals of selfless service amongst young citizens. He said, it aims at creating a pool of organised, trained and motivated youth with leadership qualities in all walks of life, who will serve the Nation regardless of the career they choose. NCC also provides an environment conducive to motivating young Indians to join the armed forces, the Governor added.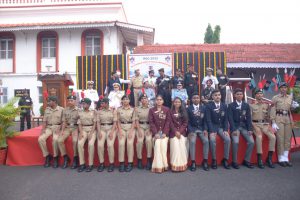 Stressing the importance of participation in the parade the Governor said, the Republic Day Parade is a grand spectacle of the country. It showcases the pride and power of India to the rest of the world. To participate in the parade is indeed a matter of pride and honour. Congratulating them the Governor said, this will help to broaden the horizon and set the path to be responsible citizens of the country.
Deserving cadets were awarded mementos at the hands of the Governor and the felicitated Cadets narrated their experiences during Republic Day Contingent – 2022.
DI/NB/SAG/AXP/2022/407