DC PAYS GOVERNMENT Rs. 12.80 CRORES
April 12, 2022
Chaitra 22, 1943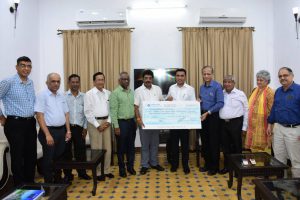 EDC Chairman, Shri Sadanand Shet Tanavade and Managing Director, Shri K.V.Ballikar handed over cheque amounting to Rs.12.80 crores to Chief Minister, Dr. Pramod Sawant at Altinho, Panaji. Directors, Shri.Santosh Kenkre, Dr. Purushottam Pednekar, Smt. Lalita Correia Afonso, Shri. Shivprasad Manerker, , Joint Managing Director Shri.B.S.Pai Angle, CGM Shri.B.S.Borkar, GM Shri.R.G.Pathan, and DGM, EDC Ltd Shri.John De Souza were also present. This payment was towards the interest on Land Acquisition amount deposited by the various
Government Departments and other agencies with EDC Ltd., for the acquisition of land.
During FY 2020-21 the Corporation has achieved revenue of Rs.82.28 crore and earned a Profit before tax amounting to Rs.73.92 crore.During the year the Corporation inspite of the COVID pandemic sanctioned Rs.42.31 crore and disbursed Rs.50.52 crore to various sectors spread all over Goa. The recovery during the same period was
Rs.237.81 crore and the outstanding loans stood at Rs.685.61 crore. The Corporation has drastically reduced the Gross NPA to 3.18% and the Net NPA was NIL and its Net worth stood at Rs.623.40 crore.
The Corporation operates the Modified Interest Rebate Scheme of the Government, wherein Interest Rebate up to 9% is extended on loans availed by the entrepreneurs setting up units in the backward talukas of Goa and/or women entrepreneurs and/or resident as well as non-resident Goan entrepreneurs subject to loan account being regular.
For the FY 2020-21 the Government has disbursed interest rebate amounting to Rs.3.86 crores to 42 beneficiaries.
DI/NB/AXP/SS/UH/2022/321